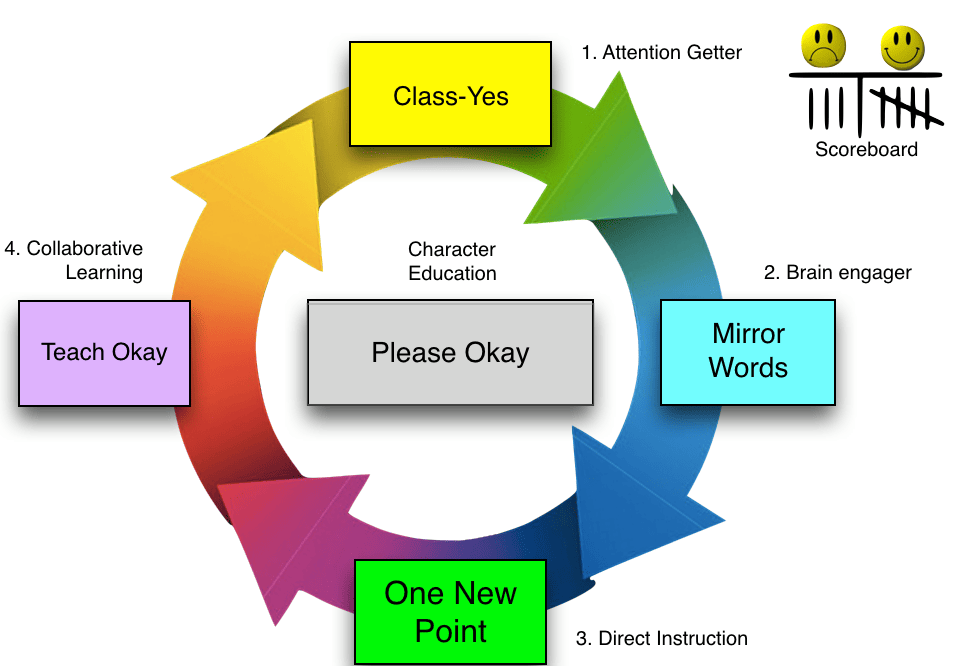 Coach B says, "As a new Wibbeteer, follow steps 1-4 on the game board above, the fundamental instructional moves for the Beginner level.  Continue cycling though these four steps and you're well on your way to Teaching Heaven. "
Beginner Strategies
-Attention Getter: Class Yes- At the start of a lesson. use Class Yes or a variation like Classity-Class! or Class Bazinga! to gain your students' attention.
-Brain Engager: Mirror Words- Use Mirror Words, one of our most powerful strategies, to present lessons with maximal student engagement.
-Direct Instruction: One New Point- deliver a short lesson, approximately a minute, on one new point. Remember, the longer you talk, the more kids you lose.
-Collaborative Learning: Teach Okay- use Teach-Okay to develop students' oral language skills as they paraphrase your lesson. During the Teach-Okay, walk around the room checking comprehension. If students are generally successful, go on to your next point. If your kids need a review, re-teach the lesson. In either case, start the four step pattern again.
-Character Education: Please-Okay- When you say "Please," students respond "OK," an important beginning to our virtue practice strategies.
-Scoreboard- Classroom tested by thousands of instructors, the Scoreboard provides year-long student motivation.
-Short Brain Course-  A micro-summary of brain structure.
-Day 1-30-90- DON'T MISS THIS EXAMPLE of Beginner implementation from Day 1 in any K-12 WBT classroom.

Dede BlueBird sings, "The Beginner game board combines two of the most well researched teaching strategies:  Direct Instruction and Collaborative Learning!  Tweedly Dee!"