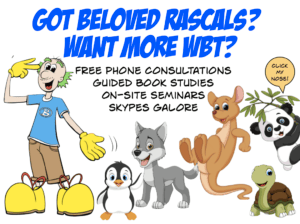 With joy-filled classrooms in 150 countries, 100,000 Facebook Likes, and 8,000,000 YouTube views, Whole Brain Teaching (WBT) is one of the world's most popular instructional systems.
Below are a number of choices (the first one is free!) to meet the needs of schools and constrained budgets.
Each option is based upon our new Amazon.com best seller, Whole Brain Teaching for Challenging Kids: Fast Track: Seven Steps to Teaching Heaven. Amazingly enough, in the first two weeks of publication, Amazon ranked Fast Track: #1 in Special Education, #3 in Education Theory, #5 in Instruction Methods!
In any of our formats, teachers will learn how to
— reward students for improvement, not ability
— nourish character education
— use WBT basics to deeply engage students' brains in direct instruction and collaborative learning
— gamify WBT's powerful classroom rules
— motivate whole class growth in academic and social skills
— develop Oral Writing talents, enormously simplifying composition instruction
— (hold your breath) Reform Beloved Rascals!
Phone Chat: Free to principals! Sign up for a phone chat, as many as you wish, at calendly.com/chrisbiffle and WBT Director Chris Biffle will guide you through our system.
Skypes: A series of one hour Skypes, combined with the substantial value of a year's free, online training, provides the most economical (short of free!) introduction to WBT basics.
Guided Book Study: Learn more about Whole Brain Teaching through our unique Guided Book Study. Buy copies of Fast Track at our reduced rate and, for seven weeks, a WBT expert, via phone dialogues, leads you through Teaching Heaven.
On-site seminar: A one day, on-site, classroom management seminar provides the most intensive introduction to our wonders. In place of reading or hearing about Whole Brain Teaching's remarkable instructional strategies, skilled presenters give staff six hours of guided WBT practice Attendees are requested to bring large hankies to the seminar … afterwards they'll be weeping tears of joy.
.
If you would like to request a training and receive pricing information, please complete the form below.  We will reply within 48 hours.  If you do not receive an email or phone call, please check your junk mail or contact our conference coordinator, Stacey Byl at staceybyl@wholebrainteaching.com
IMPORTANT NOTE: This is ONLY for those who want to request on-site training for their school or district, not for individual teachers. If you're a teacher interested in attending a conference, please look at our calendar of events.