Step 1: Ask a question. 
When introducing a new lesson, explain in a one minute lesson the context and significance of the question. Then ask your students to paraphrase what you have just said to each other using Teach Okay.
See the example lesson below on verbs.
Step 2: Answer the question. 
Give a short, kid-friendly answer to the question. The answer should be tied to a gesture.
See the example lesson below on verbs.
Step 3: Critical Thinking
Expand the answer, finishing with critical thinking tasks.
Start simple and build complexity. Speak for one minute, giving examples, explanations, and/or connections.  Then use the Teach Okay. Use sentence frames to help students build necessary critical thinking skills.
See the example lesson below on verbs.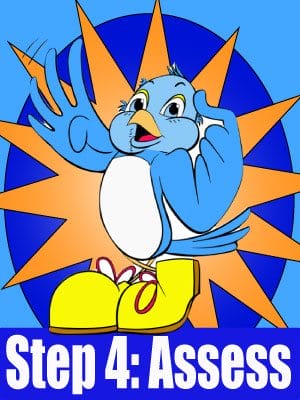 Step 4: Assess
Quickly assess comprehension using the Quick Test (QT). A QT is a list of True/False statements, easier to harder.
The teacher says, "QT"; students respond, "Cutie!" and cover their eyes. The teacher makes true/false statements. For example, "A noun is a person, place or action word." If the answer is true, students silently give a thumbs up gesture. If the answer is false, students silently give a thumbs down gesture. QT provides a rapid, clear picture of individual student's understanding. If 90% of the class pass the test, the teacher should go on to Step 5. If not, the teacher should cycle back to Step 3 above and reteach the concept with new material.
See the example lesson below on verbs.
Step 5: Writing
The teacher gives students tasks that require they use what they have learned in a critical thinking context. A key component of these tasks often involves writing. Here are some:
Employ the concept in each of the sentence types on the Genius Ladder.
Write a letter to the aliens on Planet Zork explaining the concept.
Write several sentences that compare and contrast the current concept (for example, noun) with previous concepts (verb, adjective, preposition)
Use the current concept in as many sentences as possible that also contain the word "because."
In addition students could explain the concept to their neighbor with a collection of Brain Toys.
See the example lesson below on verbs.